Aquaponics remains an upgraded hydroponic and aquaculture system that mutually benefits from both systems. Studies have shown that aquaponics does not need chemicals. It requires just ten percent of the water needed for field plant production and as well a fraction used to grow fish easily. Did you know that with tilapia aquaponics comes several benefits?
Reading through the rest of this article will help you discover the pros and cons of having tilapia in your aquaponics system.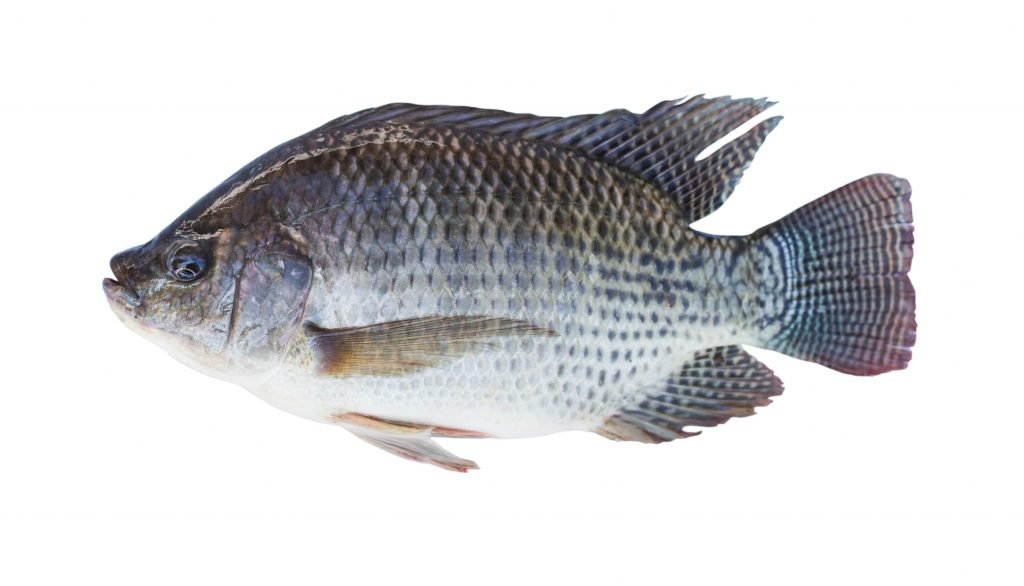 Tilapia Species
It is important to be aware that there are different species of tilapia. You can choose the right one for your set up based on the way they look or the way they behave.
This mini-guide should help you to decide which of the different species of tilapia is right for you:
The Hawaiian Gold Tilapia
Its scientific name is the Oreochromis mossambicus and the Hawaiian gold tilapia is actually yellow.
In fact, it is thought to be a variant of the Mozambique tilapia; specifically developed by the Hawaiians to be beautiful. This species is often considered to bring luck and good fortune!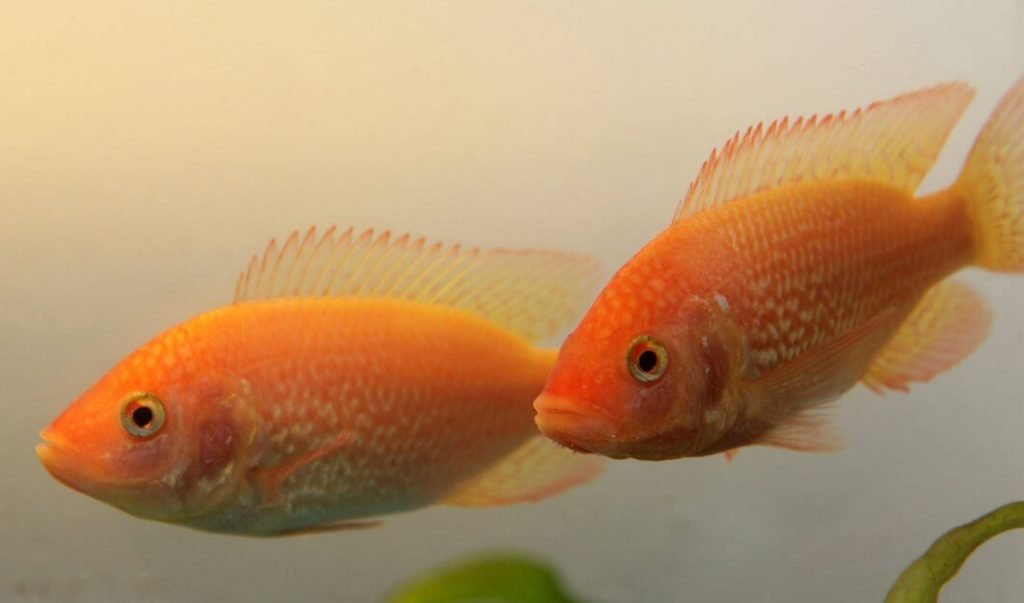 Their yellow color is enhanced by the presence of 3 spines and 9 or even 10 rays. Their heads can be considered medium-sized and their eyes small. The Hawaiian Gold tilapia has a rounded caudal fin and a continuous dorsal fin.
Most importantly this fish is very tough. They can cope with temperatures between75°F and 98°F, poor water quality, pollution, and even low oxygen. They are also largely disease resistant.
They can grow as big as 16 inches with a weight of 2.5 pounds!
It is also worth noting that consume diatoms, vegetation, and invertebrates; they should be very easy to keep in aquaponics systems.
White Tilapia
The white tilapia is actually a hybrid version of the original blue tilapia. This means you'll need to do some research on the specific variant you are getting. Depending on where and how it has been bred it could be a fast grower or a slow one!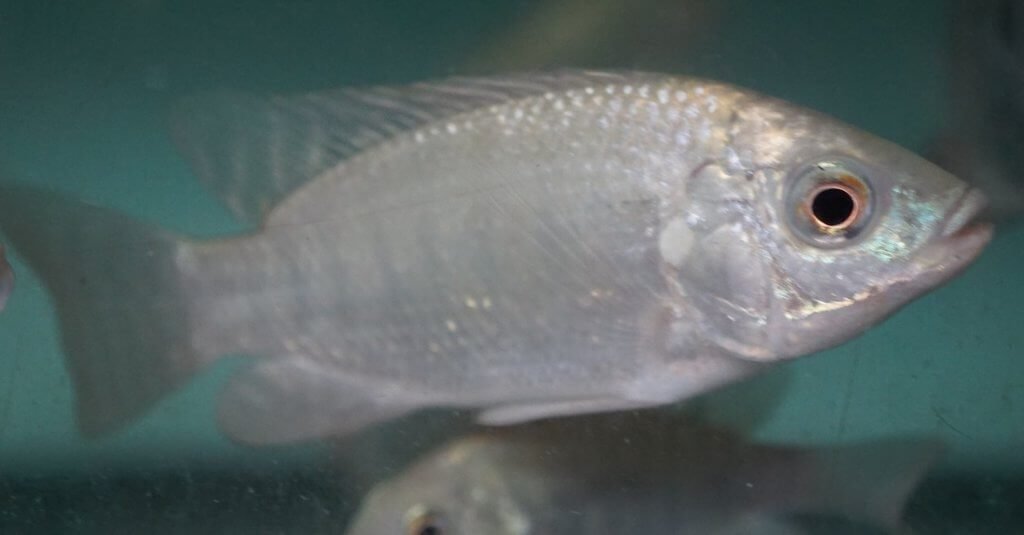 As you'll probably want a fast growing one for your aquaponics it's important to check first.
The white tilapia is similar in appearance to the Hawaiian gold tilapia except that it is a grey / white color.
The big difference with this type of tilapia, other than the color, is that it can handle temperatures as low as 50°F before it will die. OF course, it does prefer warmer waters and will be in a state of hibernation at low temperatures. But it does make them harder to kill.
Blue Tilapia
The blue tilapia is, unsurprisingly, blue. It also has a pink underbelly and although it looks similar in shape to the other tilapia; it takes much longer to grow.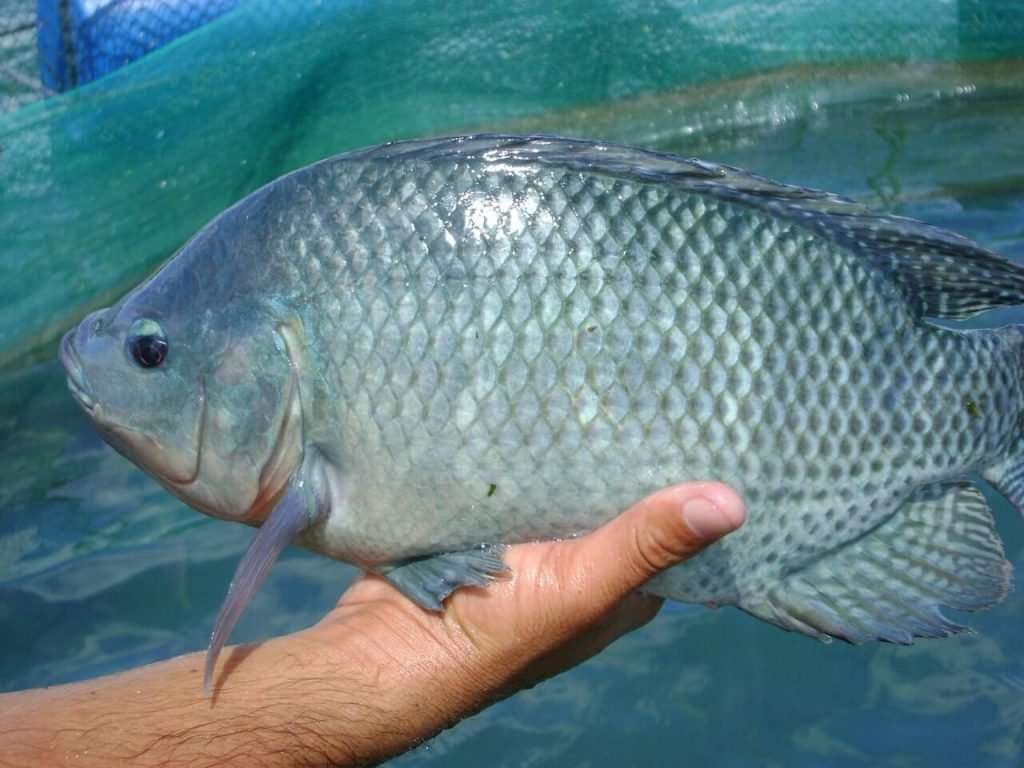 In fact, the blue tilapia will take as long as 3 years to reach between 2 and 4 pounds; compared to the Hawaiian Gold tilapia and the white tilapia which can do it in roughly a year.
This species of tilapia is not the most tolerant of temperature changes but it can survive in saltwater; although it does much better in freshwater!
Get Started with Aquaponics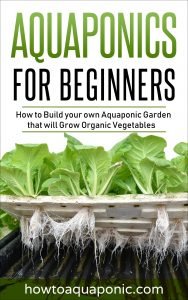 I have written a book that contains all the information you need to get started with aquaponics.
Don't be the person that makes painful mistakes during your first aquaponics build!
It has 265 pages filled with information about aquaponics. It's available in paperback or eBook format.
You can buy it here on Amazon.com
Tilapia Feeding
One of the most important questions you should ask if keeping tilapia is what do tilapia eat in aquaponics?
Your main role is to feed them and maintain the water temperature. In the wild, they would eat diatoms and plenty of blue-green algae. But of course, you'll be doing your best to keep the algae at bay for the sake of your plants in your aquaponics system.
The best option for your system is to locate organic tilapia food. While there are many fish foods on the market many of these have been developed by farmers looking to get rid of their waste.
In fact, some foods are composed of ground-up fish bones and the by-products from farming. This is not ideal fish food for any species.
However, if you choose organic tilapia food you'll find that the needs of the fish have been thought about first and the food prepared after; ensuring it has the best possible ingredients. Check out the food I recommend for tilapia here.
The difference in your system could be huge. The right fish food will help your tilapia grow to full size in as little as 240 days. With the wrong conditions, your tilapia may never even be as heavy as a pound!
Tilapia Breeding
It is impossible to overstress the importance of getting your tank right. Tilapias are relatively sensitive but they will help to keep your tank clean and provide plenty of nutrients for your plants.
However, it is essential that you monitor the temperature to keep it in the 80°F range.
One mistake that many tilapia users make is to keep changing the pH of the water; effectively trying to correct it.
Providing your plants are tolerant it is usually best to let the water take care of itself. Tilapias actually have different pH levels depending on what they are eating.
This is basic advice for all your tilapia fish. To ensure the fish is ready for breeding; these points will also be useful:
When ready for breeding lower the water temperature to the late '70s. This will prevent them from breeding at first. Keeping the tank dark also helps.
You can then select the fish you want to breed; don't let them just breed as they feel like it. Breeding fish stop growing and the males become very aggressive.
You may prefer to select the breeding candidates by placing them in a separate tank to observe them first.
When you're ready, keep the ones you want to breed in a separate tank and warm the water to 85°F.
Then add light; make sure the tank lights are on for at least 12 hours although you'll also have to make sure this doesn't interfere with any growing or flowering cycle in your plants.
Add a substrate to the base of your breeding tank; this is for the female to lay her eggs in. Gravel is a good option for this.
As soon as the fry appear, remove the mature fish and put them back into your aquaponics system (let them get used to the temperature difference first). The fry won't be preyed on and can be added when they are a little bigger.
Pros Of Tilapia In Aquaponics 
Easy To Harvest – Tilapia is always easy to harvest when used in aquaponics. It is often a good idea to purge the fish during harvest time. For this process to be performed, it is expedient to put them in a separate tank. This will help the tilapia's digestive system to be properly cleaned. In most cases, you will find people withholding feed for 3-5 days when using tilapia for aquaponics before harvest time. Ensure water is often exchanged during the time of withholding feed from tilapia. This will help to reduce temperature and as well as improve water quality. Putting all these together will help to easily harvest tilapia in an aquaponics system.
Good Development/Growth Rate – Tilapia aquaponics will always lead to a good development/growth rate for this type of fish. Studies have shown that 2-4 ounce tilapia fingerlings can attain about 0.75 lb by the end of the growing season. Experiencing a good development rate is highly important. This is because you will have the opportunity of producing the same amount of nutrients with a smaller amount of fish for the plants.
Cons Of Tilapia In Aquaponics
Temperature – It's both a pro and a con. You could use tilapia in colder climates but you need to be willing to pay your heating bill which can be huge. It's better to use trout in colder climates.
Tilapia FAQ
Here are some of the most common questions regarding tilapia and the answers to your tilapia faqs.
Is tilapia a cold-water fish?
No. You'll need to maintain the temperature between 75°F and 90°F to have happy and healthy fish.
Below this, they will become dormant and most tilapia will die if the water gets as lows as 55°F
What's a Tilapia temperature range?
75°F to 90°F is the best temperature to keep tilapia at.
How many tilapia per gallon?
The general consensus is that a pound of tilapia will need 3 gallons of water. A full-grown tilapia will weigh approximately 1 pound although they can grow larger.
This may mean you only have 1 tilapia per 3 gallons or even per 6 gallons of water.
You can increase the density of your fish by adding more grow beds; this will filter the water faster allowing more fish to be fed and stay healthy.
Where can I buy live tilapia?
You can find tilapia on the internet. However, it is important to do your research before you commit to buying any. You want to make sure they are as good as they appear to be.
For this reason, you may prefer to visit your local fish store and see what they have in stock.
Don't forget it is much cheaper to buy fingerlings than full-grown fish. Alternatively, you can get a male and a female and start breeding your own.
What's the best tilapia for aquaponics?
Tilapia, in general, are very hardy fish; providing you monitor the temperature. This means that most species of tilapia will thrive in your aquaponic system.
As a personal preference blue tilapia is one of the best for an aquaponics system; regardless of your experience level.
What's a good tilapia aquaponics tank size?
This will depend on the number of fish you wish to keep and how many plants you want to grow!
Most people start with a fish tank of at least 500 liters. This should give you approximately 130 gallons which allow enough room for between 20 and 40 full grown tilapia.
You can always expand the tank later.
Of course, you also need to consider the size of your plant beds; the larger they are the more fish you can get in the same 130 gallons.
What is the stocking density for tilapia?
I recommend using 1 pound of fish for every pound of tilapia. For example, if you have an 80 gallon tank you can stock 10 Nile tilapia in are that are 1 pound each. In the beginning, you can stock more but you have to watch out when they begin to grow.
What is the growth rate of tilapia?
This is a growth rate chart for tilapia. The axes are days and weight in grams (one pound is 450 grams).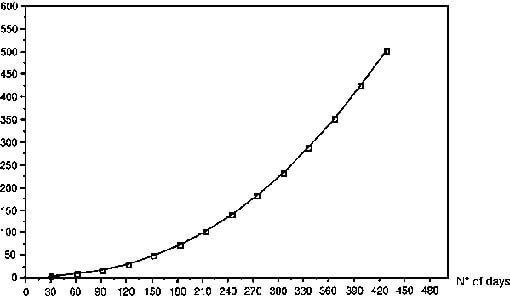 Read more:
Get Started with Aquaponics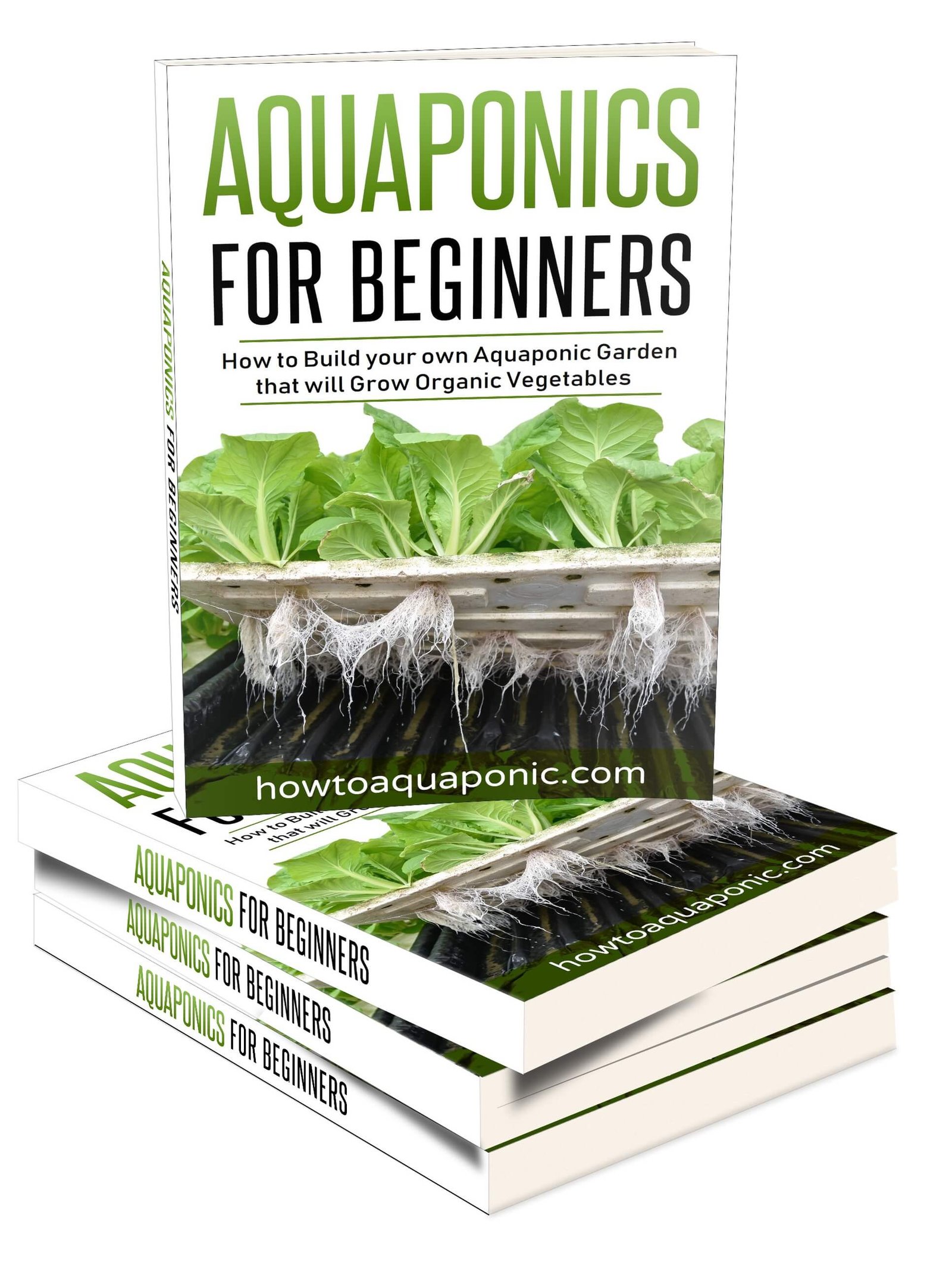 I have written a book that contains all the information you need to get started with aquaponics.
Don't be the person that makes painful mistakes during your first aquaponics build!
It has 265 pages filled with information about aquaponics. It's available in paperback or eBook format.
You can buy it here on Amazon.com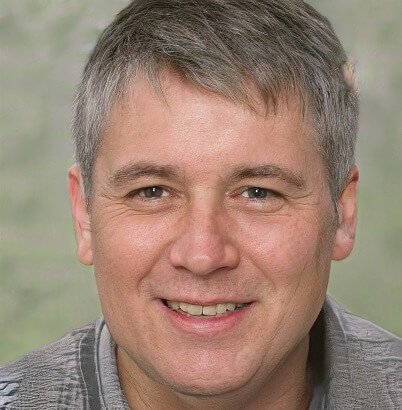 Nick loves building, managing and giving others advice on aquaponics. He created this website to do just that. He is the author of Aquaponics for beginners. If you got a question contact him here or read more on the about page here.