Aquaponics gardening is continuing to pick up speed all over the world. When it comes to organic gardening there is no better option to choose aside from this one. It is simple but not until you really understand what it is you are doing and the plants that you can grow in an aquaponics system. Basically, aquaponics is a combination of hydroponics plus aquaculture. In simpler terms you can harvest fish and grow plants in one system. It is the waste from the fish that provides the growing plants with a food source while they in turn act as a natural filter for the water the fish are living in. It is a symbiotic relationship; a win-win situation.
What plants can you grow? 
There are so many aquaponics plants that you might want to try out in your system. Initially it was thought that only water plants would work for the system. However, it was discovered after lots of research that terrestrial plants were a very effective way of purifying water for the aquaculture. The nutrients in the water were ideal for growing plants in the hydroponic system. So what are the plants that you can grow in your system?
Leafy crops such a lettuce, chives and kales were the first considered for aquaponics. Nevertheless commercial growers have enjoyed great success with plants such as tomatoes, melons, flowers, cucumbers, basil, mint, broccoli, cabbage and so many more. The list is endless. Terms and conditions apply though. It depends on the method that you choose. There are people who choose the nutrient film technique (NFT) others work with clay pebbles etc. There are plants that grow best with one method and not with the other. Read our post about the best plants to grow in aquaponics. Check out this article if you want to grow small plants in aquaponics.
It is important to have a good ratio between plants and your fish. Click here to learn more about it.
Plants with clay pebbles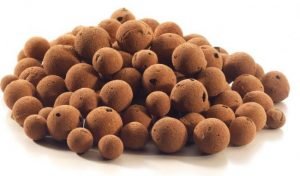 Clay pebbles in an aquaponics system are only used to grow plants that have a low nutrition demand. Some of the best examples of these plants include kales, mint, arugula, swiss chard and watercress. Most common house plants will do well in this system. A temperature in the bracket of 60-80°F will work perfectly for most of these plants. The only thing that you will need to ensure is that their need for air and pH of the water is kept at its optimum. In the case of lettuce, the leafy varieties are favored ove the iceberg lettuce.
Plants with nutrient film technique (NFT) 
NFT is an aquaponics method that is best for plants that require a lot of nutrient content. The plants are grown in long narrow channels and a thin film of water flows continuously down these channels. This system is best for plants that need lots of water such as the aforementioned leafy vegetables. With careful control of the amount of water it is possible to grow fruiting plants such as tomatoes, cucumbers, capsicum, broccoli, peas, peppers and peas. These ones however require lots of nutrients and will normally grow under temperatures in the neighborhood of 78°F. Spring and summer are the best times to grow these plants using the NFT method.
Bottom line 
In summary, there are just so many aquaponics plants that you can try out both in large scale and small scale. The only thing that you need to master is the control of water and the temperature of the water. Leafy vegetables such a lettuce and kales do not require high nutrient content like tomatoes, cucumbers and other fruiting plants.